Why Service Here?

When your vehicle is starting to show some signs that you may need to schedule an appointment for service or repairs, it helps having a reliable place around Huntington Beach, Westminster, and Orange County to get these needs met. At Norm Reeves Honda Superstore Huntington Beach, we're here and happy to help drivers with their automotive issues and needs.
But you may ask, why service here? Keep reading to find out!
Our Expansive & Well-Equipped Facilities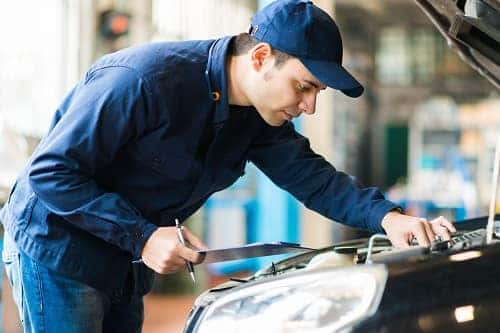 Our service center is state-of-the-art. It includes several service bays, so there's always a spot for your car. Each bay includes some of the latest advancements in automotive tools and diagnostic technology, which helps our skilled and certified technicians on a daily basis.
Our team is knowledgeable when it comes to Honda mechanics and engineering. In fact, they're specifically certified with Honda engines and repairs. Using the tools, the technology, and their expertise—they'll have everything they need to ensure that your vehicle gets what it needs.
Whether it's an oil change or a complicated repair, they're the right hands for the job.
Genuine OEM Honda Parts On-Site

When it comes to repairs and service, having the right parts nearby can make all the difference. Whether your Honda needs a new filter, a tail light, or even a new spark plug, we'll have those parts on-site in our parts center!
The benefit to using Genuine OEM Honda parts is that they're specifically made for your vehicle. Aftermarket parts, what most service centers and mechanics use, can fit, but they're not designed for your vehicle. They're also made with cheaper materials, which means that they're susceptible to premature wear—which means replacing that part more frequently. Genuine OEM Honda parts are built to last!
The Benefit of Regularly Scheduled Honda Service
To keep your Honda lasting and performing at its best and most efficient, you'll want to keep up with routine service and maintenance. Regularly scheduling service and having your vehicle's maintenance needs met has plenty of benefits.
When you have your vehicle regularly serviced, it ensures that you're getting the proper components maintained and replaced in a timely manner. You'll also have your vehicle inspected regularly, which will give our technicians a chance to see if there's any issues forming under the hood. From there, they can apply the necessary service to ensure that the issue is dealt with and doesn't form into a problem.
Regular service and maintenance not only ensures that you get the most out of your vehicle, but it gives you the chance to get even more. A well-maintained Honda can have an increased lifespan—giving you more opportunities for adventures around Huntington, Westminster, and Orange County.
Have you noticed any issues with your vehicle? Do you have an oil change coming up? Schedule your service today with us at Norm Reeves Honda Superstore Huntington Beach! We'll make sure that your Honda is in great shape and ready to face the open road!