2019 Honda Passport vs Chevy Blazer

When you're in the market for a new SUV, you want to be sure of its capabilities. Most of us will take ours just about anywhere—to drop the kids off at school, head on the morning commute, or go off-roading—so it's important to know you're getting a vehicle that can do it all. Well, the 2019 Honda Passport vs. Chevy Blazer debate has already started at the dealership and on the road.
We wanted to help drivers near Huntington Beach, Westminster, and Orange County make an educated decision on their next SUV, which is why we at Norm Reeves Honda Superstore Huntington Beach put together this guide, which is full of quick specs and informative facts that differentiate these two vehicles. Keep reading to decide which one suits your lifestyle!
Passport vs Blazer: Engine Performance & Capacities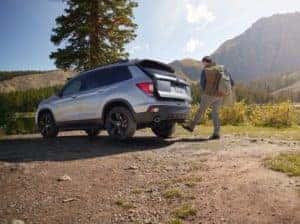 When it comes to powerful engines, both the Honda Passport and Chevy Blazer have you covered. They each come standard with smooth, well-tuned 9-speed transmissions.
Under the hood of the 2019 Passport, you'll find a 3.5L SOHC V6 that generates 280 horsepower and 262 lb-ft of torque. Unfortunately, the Chevy Blazer's standardly equipped engine is not nearly as strong as the Passport's. The 2.5L DOHC 4-cylinder engine only produces 193 horsepower and 188 lb-ft of torque.
You'll also quickly notice that the Honda Passport's native and maximum towing capacities are much higher than the Blazer's. The Passport offers 3,500 pounds of raw towing power while the Chevy Blazer only provides 1,500 pounds. When properly equipped, these capacities increase to 5,000 pounds for the Passport and 4,500 pounds for the 2019 Blazer.
Rival Interior Space & Comforts
If you're looking for a spacious ride, then you're reading the right comparison guide. The 2019 Honda Passport and Chevy Blazer have more than enough passenger and cargo room for any weekend adventure or college move-in. In the Passport, you'll have 115.9 cubic feet of total passenger volume as opposed to the Blazer's lesser 107.8 cubic feet of space.
Moving on to the measurements for specific rows, the Passport has 40.1 inches of headroom, 62 inches of shoulder room, and 59.1 inches of hip room in the first row. Although the Blazer is comfortable, it doesn't have as much room in the front with 39.80 inches of headroom, 59.10 inches of shoulder room, and 55.60 inches of hip room.
The 2019 Passport also comes with a larger cargo area. When the rear seat is up, you'll have access to 41.2 cubic feet of storage in the Passport while the Blazer only has 30.5 cubic feet. We all need that extra space sometimes, so it's handy that the Honda Passport has a substantial 77.9 cubic feet of room compared to the Blazer's 64.2 cubic feet.
Comparable Safety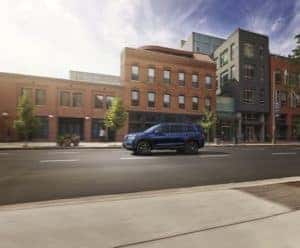 Both of these SUVs are set up with state-of-the-art systems to keep you safe and in control on the road. They have 4-wheel antilock brakes, traction control, electronic stability control, and blind spot warning systems. You'll also have rearview cameras with guidelines to help you reverse out of tight parking spaces.
Honda did take safety a step further in the Passport. Firstly, it's built using Advanced Compatibility Engineering™, a body structure that's meant to reduce the amount of impact force that's distributed to the passenger cabin. Then, unlike the Blazer's airbags, the 2019 Passport's airbags operate on speed and seat sensors to intelligently deploy them with the correct amount of force. The side airbags will also shut off if a child is leaning against the door.
Which SUV Will You Choose?
We know that our 2019 Honda Passport vs. Chevy Blazer match-up showcases both vehicles positively. They each have a set of unique features and technologies with quite different overall designs, and they are both reliable and fun to drive. However, the auto experts at Norm Reeves Honda Superstore Huntington Beach believe that drivers near Huntington Beach, Westminster, and Orange County will appreciate the robust offerings of the Passport.
When you're ready to get behind the wheel of the Honda Passport, contact our showroom to schedule a test drive today!