Honda Fit Dashboard Light Guide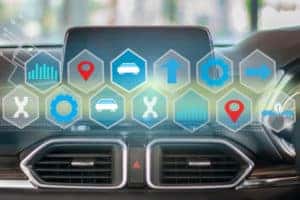 You see them every time you start your car, but what exactly do all those dashboard lights mean? In this Honda Fit dashboard light guide, well help drivers from across the Fountain Valley, Costa Mesa, and Newport Beach area decipher the symbols you might be seeing on your dashboard.
Although many lights are the same from model year to model year, keep in mind that in this Norm Reeves Honda Huntington Beach guide, well be referencing the Honda Fit. If you don't see the particular light you're looking for in this guide or if you have any questions, contact our service department right away.
Honda Fit Indicator Lights
With almost 30 dashboard lights in the Honda Fit, we certainly have a lot of ground to cover. The first thing to know is the color of the light. All of the indicator lights are either blue, green, yellow, or red. While red lights are typically a sign of a critical malfunction, green and blue lights are used to relay basic vehicle information, such as an engaged turn signal.
Low oil pressure indicator (red): The name of this light says it all. Its represented by an old-fashioned oil can be positioned under the speedometer. This is a serious problem and you should pull over and turn off the vehicle as soon as you can do so safely. Then contact your Honda dealer.
Brake system indicator (red): Represented by the word BRAKE, this dashboard light indicates that the brake fluid could be low or that the brake system may have malfunctioned. However, it could also mean that your parking brake is on, so check that before calling the dealer.
Maintenance Minder indicator (yellow): This little light that's shaped like a wrench is just trying to let you know that scheduled maintenance is due soon, so make an appointment at your Honda service center.
Electric Power Steering indicator (yellow): Unlike the last yellow indicator light we talked about, this dashboard light could be serious. Symbolized by a two-spoke steering wheel next to an exclamation mark, this light means that there could be a problem with the electric power steering, making turning more difficult.
Cruise main on indicator (green): The green light that says CRUISE MAIN is simply letting you know that the cruise control system is on.
Cruise control on indicator (green): Immediately to the right of the previous light is this indicator that says CRUISE CONTROL. This light lets you know that cruise control is currently engaged.
Low-temperature indicator (blue): A blue thermometer hovering on liquid is a normal light to see. This indicator will turn off automatically once the engine reaches a normal operating temperature. However, if this light is red and not blue, pull over and shut off the engine before it overheats.
High beams on indicator (blue): Most drivers are familiar with this dashboard light, but we thought we'd add it just in case. Depicted as a stack of light rays beside a headlight, this indicator means that your high beams are on.
Didn't see your light in our Honda Fit dashboard light guide? Schedule a service appointment at Norm Reeves Honda Huntington Beach, where we proudly serve the communities of Fountain Valley, Costa Mesa, and Newport Beach.