Honda Civic Maintenance Schedule

As the proud owner of a Honda Civic, you know that regularly scheduled maintenance is the easiest way to make sure that your vehicle continues running smoothly. Our team wants to make service simple for Fountain Valley, Costa Mesa, and Newport Beach, CA, drivers. You can count on the certified technicians at Norm Reeves Honda Superstore Huntington Beach.
Below, we've provided some general information about the Honda Civic maintenance schedule and important service intervals. However, keep in mind that there are a number of factors that go into determining the types and frequency of maintenance required, so schedule a service appointment for more assistance.
---
Maintenance at 7,500 Miles
According to the 

Honda Civic

 recommended maintenance schedule, drivers should have their vehicle's tires rotated and replace the engine oil every 7,500 miles. Depending on the conditions you drive in, this interval may be shorter.

Conversely, a tire rotation may not be necessary. Your service technician will let you know what is needed.
---
Maintenance at 15,000 Miles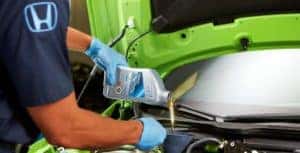 Approximately every 15,000 miles or 12 months, whichever comes first, you should schedule a service appointment for your Honda Civic.
During this appointment, an automotive technician will change the engine oil, rotate the tires, change the cabin air filter, and examine all fluid levels (topping off or replacing as needed).
Other required maintenance items may include adjusting the parking brake and a thoroughly inspecting the car's suspension, exhaust, and cooling systems.
---
Maintenance at 30,000 Miles
Over time, the spark plugs in your vehicle wear down, resulting in decreased performance. They should be examined at this time. Additionally, brake components like the brake pads should be inspected, too.
Your Honda technician will inspect the plugs and braking system and make replacements or adjustments when necessary.
Maintenance at 60,000 Miles
In addition to all other recurring maintenance items, the 60,000-mile mark may call for a transmission fluid replacement. Clean fluid is a necessity for continued high performance in your Civic.
---
Honda Maintenance Minder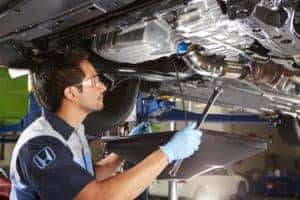 New Honda Civic models are now equipped with Honda Maintenance Minder, which helps you keep track of when service is needed and what specific service items are called for. The system works by displaying a code on the multi-information display that the technician can then read and find out what maintenance your Honda Civic needs.
Code A:

 Replace the engine oil.

Code B:

 Replace the engine oil and oil filter. Inspect the brakes and parking brake adjustment.

Code 1:

 Rotate and inspect the tires.

Code 2:

 Inspect the fuel tank and drive belt. Replace the cabin air filter.

Code 3:

 Replace the transmission fluid.

Code 4:

 Replace the spark plugs.

Code 5:

 Replace the engine coolant.
Although the Maintenance Minder is a great resource, it's still recommended that you monitor your Honda Civic maintenance schedule to ensure that your vehicle receives the care it needs.
---
Don't Fall Behind on Routine Maintenance
Is your Honda Civic ready for a routine maintenance appointment? Drivers in the Fountain Valley, Costa Mesa, and Newport Beach area can schedule service at Norm Reeves Honda Superstore Huntington Beach. If you're still not sure when your Honda might need servicing, contact our service department to speak with one of our automotive professionals.
---