2019 Honda HR-V vs Hyundai Kona

Shopping for a new crossover SUV in Huntington Beach, Westminster, or Orange County? You're probably wondering which is better for your lifestyle when it comes to the 2019 Honda HR-V vs. Hyundai Kona.
At Norm Reeves Honda Superstore Huntington Beach, we think both models are great choices. But since you can only take home one, we want to help you make that decision. Read on for a deep dive of each vehicle's specs!
Honda HR-V vs Hyundai Kona: Passenger Space
2019 Honda HR-V

2019 Hyundai Kona

Rear Headroom

38.3 inches

37.8 inches

Rear Legroom

39.3 inches

34.6 inches

If you want everyone to stay comfortable when you're leading the company carpool or taking friends to the beach, the Honda HR-V is your best bet. It offers 100.1 cubic feet of total passenger volume, compared to only 94.1 cubic feet in the Hyundai Kona. This difference may not be very noticeable up front, but it is in the rear seats.
Versatile Cargo Volume
2019 Honda HR-V

2019 Hyundai Kona

Available Cargo Capacity Behind Rear Seats

24.3 cubic feet

19.2 cubic feet

Available Cargo Capacity, Rear Seats Folded

58.8 cubic feet

45.8 cubic feet
The HR-V also offers more rear cargo space for your beach gear or dog crate, with up to 24.3 cubic feet behind the rear seats. Compare that to the Kona, which only offers 19.2 cubic feet of rear cargo volume.
Plus, the cargo area is far more versatile in the HR-V. Both crossovers come with 60/40-split rear seats that easily fold flat to provide more cargo space. However, the Honda HR-V takes this versatility a couple steps further with multiple cargo modes.
For instance, you can fold down the front passenger seat as well as the rear seats to carry items up to eight feet long. You can also fold the bottom of the rear seats up for more floor space, allowing you to carry tall items like a bicycle or large plants. This option isn't available in the Kona.
HR-V vs Kona: Performance Features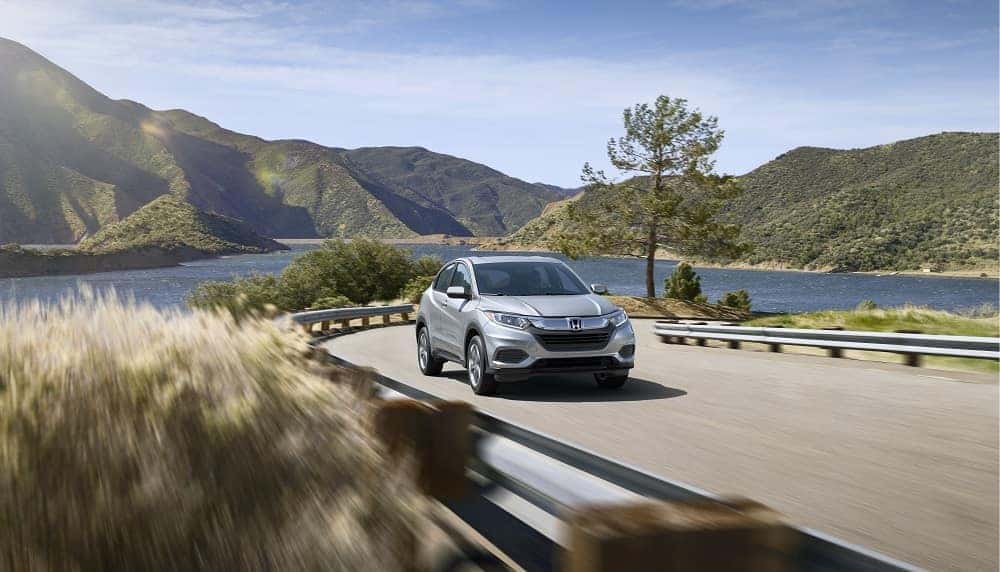 The standard performance specs are nearly identical in both crossovers, which come with inline 4-cylinder engines and your choice of front- or all-wheel drive. There are minor differences in horsepower and fuel economy, but not enough for you to notice during your everyday commute.
One thing you will notice is the parking brake. The HR-V has an electric parking brake, which you can engage with the simple push of a button. It automatically disengages when you push the gas, which means you don't have to remember to release it when you start driving.
Compare that to the standard parking brake lever found in the 2019 Kona, which isn't as easy to turn on and off. Plus, the lever takes up more room in the center console, making it harder to find room for storage.
On a more exciting subject, certain HR-V models let you take control of the Continuously Variable Transmission with the addition of sporty paddle shifters. The Kona, which is equipped with a marginally less efficient automatic transmission, doesn't offer this option.
High-Tech Safety Features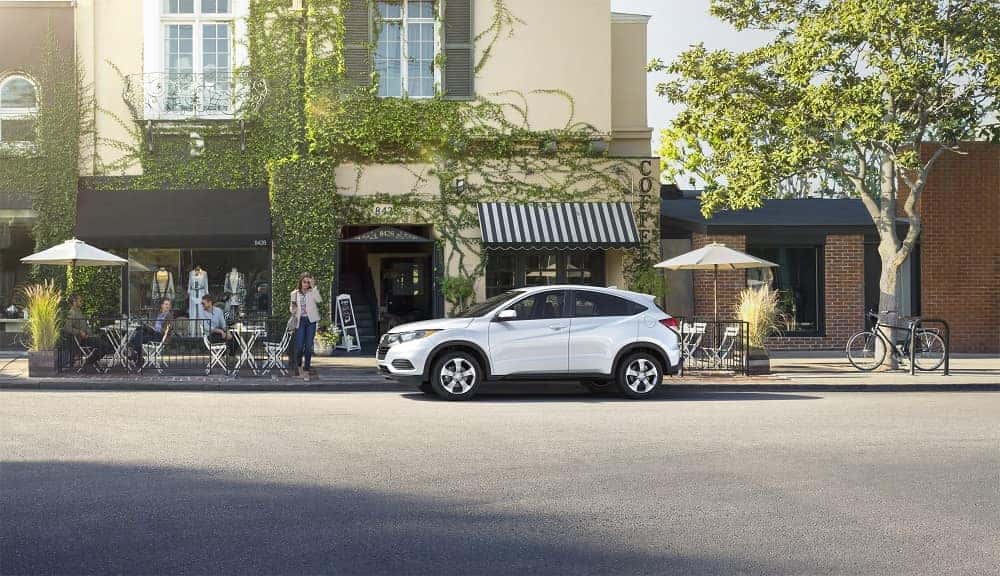 Of course, the 2019 HR-V and Kona both offer an abundance of high-tech safety features. In the Kona, this includes an available Lane Change Assist. When you're on the highway, and you activate your turn signal to change lanes, this feature will alert you if it senses a vehicle in your blind spot.
Honda LaneWatch™ is a similar feature available in the HR-V, but it takes the technology a step further. Instead of simply providing an alert when someone's in your blind spot, it displays a view of the road beside your vehicle on the center touchscreen display. That way, you can see for yourself where nearby vehicles may be in relation to your crossover.
Additionally, each crossover comes standard with a rear-view camera to help you back up with confidence. Again, the Honda HR-V camera offers more assistance. It has a multi-angle view, offering an even better sense of the area behind you. The rear-view camera in the Kona only provides one view.
Honda HR-V vs Hyundai Kona: Try Our Top Pick
If you're looking at performance specs, you're going to have a hard time choosing between the 2019 Honda HR-V and Hyundai Kona. Once you start digging deeper into interior dimensions and technology, though, it's clear that the Honda HR-V has more to offer.
Drivers in Huntington Beach, Westminster, and Orange County can head to Norm Reeves Honda Superstore Huntington Beach to see this crossover for themselves. Contact us today to learn more and schedule your test drive!