2020 Honda Accord vs Toyota Camry

If you're on the hunt for the next sedan you'll drive through Huntington Beach, Westminster, and Orange County, then you're probably looking at class staples like the 2020 Honda Accord and Toyota Camry.
The team at Norm Reeves Honda Superstore Huntington Beach is here to tell you that both cars are great picks for local drivers, but only one is most ideally suited to your unique lifestyle.
Check out our Accord vs. Camry comparison to find out which is the right one for you. Then, contact us to take the wheel!
---
Driver-Assist and Smart Safety Features in the Accord and Camry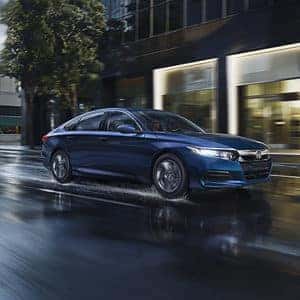 Whether you're driving the 2020 Honda Accord or Toyota Camry, you can count on your sedan to be packed full of driver-assist features designed to add an extra layer of convenience and safety to every drive.
In fact, both cars make several of these features standard, including:
Forward collision mitigation
Lane keeping system
Smart cruise control
Automatic high-beam headlights
The Accord and Camry also both have an available blind spot monitoring system that can help you change lanes or merge onto the highway with even more awareness of your surroundings.
An added assist that you'll find when you take the wheel of the Honda Accord is the Traffic Sign Recognition (TSR) system. This keeps track of road signs and traffic patterns. It then displays them on your driver dashboard. This way, you can easily stay aware of the rules of the road—like speed limits.
Unfortunately, the Camry doesn't offer a similar feature to help keep drivers informed.
---
2020 Honda Accord vs Toyota Camry Interior Dimensions
Now, let's look inside their cabins. When we open the front door of either the Honda Accord or Toyota Camry, we're greeted by a cozy interior with enough room for five passengers in total. This includes plenty of room to stretch out, with both sedans giving drivers more than 42 inches of legroom.
While drivers in the Accord and Camry will have a fairly comparable amount of space, rear-seat passengers may have a bit more room in the Accord:
Accord rear legroom: 40.4 inches
Camry rear legroom: 38 inches
As you can see above, the Honda Accord gives back-row passengers an additional 2.4 inches of legroom, which can make all the difference when you have adults in the back seat.
This disparity in legroom measurements may be because the Accord generally offers more passenger space than the Camry. The Accord has a passenger volume of 105.6 cubic feet and the Camry has a passenger volume of 100.4 cubic feet. That's a difference of more than five cubic feet.
We see a similar trend when we look at their cargo capacities:
Honda Accord trunk volume: 16.7 cubic feet
Toyota Camry trunk volume: 14.1 cubic feet
Since the Accord offers 2.6 more cubic feet of trunk volume than the Camry, you may be able to pack a bit heavier in the Accord. Meanwhile, drivers in the Camry may have to leave a few bags behind during their next weekend getaway.
---
Accord vs Camry: Take the Wheel of Your Favorite
We hope that our 2020 Honda Accord vs. Toyota Camry comparison was able to help you determine which of these popular sedans is best suited to your drives through Westminster, Huntington Beach, and Orange County.
If you decide to drive the Accord, contact the team at Norm Reeves Honda Superstore Huntington Beach and we'll get you out for spin.
Contact us to schedule your test drive today!