Enjoy a Well-Crafted Beer at One of the Best Microbreweries near Orange County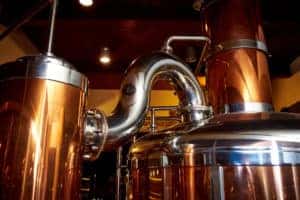 As the best microbreweries near Orange County, these craft brewers offer a delicious array of draft beers made from quality and fresh ingredients!
Cismontane Brewing Company
At Cismontane Brewing Company, they are consistently brewing impeccable beer while also creatively developing new recipes and techniques. Their draft list can range from a traditional lager to beers aged in bourbon barrels or fermented with a wild yeast.
Year-round, you can get their Coulter Rye IPA or their roasted and coffee-like Black's Dawn Imperial Stout. More specialty brews can be found like their Smoking Santiago smoked Scotch ale or one of their refreshingly tart sours like their Marea Roja. You'll want to make Cismontane a regular spot since there are always new beers for you to try!
Evans Brewing Company
At Evans Brewing Company, there is a beer for every individual taste! In the mood for something light and refreshing? Try their Son of a Beach blonde ale. Looking for a beer that packs a hoppy punch? Their Krhopen IPA will give you just that. If it is something more roasty and sweet you want, their Stout at the Devil will be a great beer to enjoy sip after sip.
Whatever beer you do order, you can pair it with one of their Beer-Infused Signature Sausages or Brats they serve at The Public House. Their restaurant also features a variety of other dishes from tacos to burgers to brick-oven pizzas.
The Good Beer Company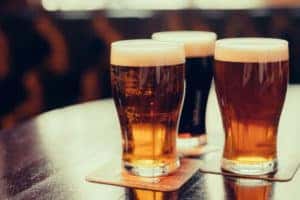 Each time you come by The Good Beer Company, you can get your favorite, go-to beer they make or order a flight to try new brews they've released.
They have an exceptional variety of sour ales for a funky tasting experience! Their Tropical Oro is a barrel-aged sour with passionfruit, pineapple, and watermelon. Wine lovers will like their Rose Veza, which is a tart farmhouse ale with Muscat and Cab Franc grapes.
On top of making good beer, their actions show that they are a good company too. They take part of their profits and reinvest it in local nonprofits that work hard to help better the community.
Enjoy Your Next Happy Hour at a Brewery!
Cool off from the sunshine and come grab a draft at one of these microbreweries near Orange County!